Background
It is necessary to know the plant's present resource levels before executing the production plan. gomsTIMS™ provides the detailed information in real-time on the plants' tanks farm inventory by interfacing with the plant's Automatic Tanks Gauging (ATG) system and other modules in an integrated system, such as blending control, custody transfer, planning and scheduling of material movement, etc.
Applications
Tanks Inventory Management System (gomsTIMS™) can be used very effectively for:
Custody Transfer
Estimation of Hydrocarbon Losses
Plant Inventory Calculations
Liquid Assets Management
Compliance with Local environmental regulations
Blending of products and crude oil
Benefits
Online real-time information of plant inventory for material movement
Planning and scheduling of tank farm activities and maintenance
On-line and off-line tank farm reports for management and operations
Online Management and accounting of multi-customer products inventory
Features
Configuration & Security

Multi-level user access security and individual user configuration and access control
System configuration by tank farm engineer and individual customization of user preferences by operator
Import tank parameters from Excel worksheets for data initialization.
Online Trends

Any tank gauging parameters or tank inventory can be viewed online historically
User can define his own groups of trends for easy retrieval and viewing

Inventory Calculations

Online Calculations for Temperature compensation by ASTM tables at 15 or 20 degree C
Perform quick calculations of tank inventory and level for loading and unloading operations with an online calculator

Historical Data

Configure interval logging reports for product movement tracking
Monitor tank gauges data and inventory online in graphical and tabular formats
Historical data available online for tank gauging and product inventory

Liquid Asset Management

Online current and historical calculation of tank capacity utilization for management review for optimum usage of tank farm

Hydrocarbon Losses

Online current and historical calculations of both standing and movement fugitive tank losses to comply with local environment regulations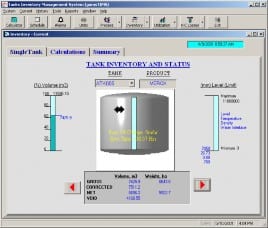 Figure – 1 Online Inventory and gauging display
Unlimited Strapping points and initialization of mathematical calculations by tank geometries. Plant engineer can modify these data to reflect actual tank deformation.
Export of tank data to Excel worksheet format
Customize input and output units of tank gauging and inventory data

Real-time Monitoring

Real-time tank gauging and tank inventory information for tank-wise and product-wise
Graphical information of tank gauging and tank inventory parameters
Alarms Management
Real-time status, management and logging of tank alarms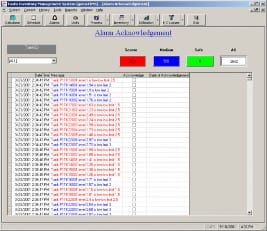 Figure – 2 Management of Tank Alarms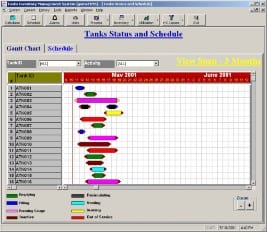 Figure – 4 Tank Farm Activities Scheduling
Scheduling

Scheduled, planned and actual tank activities can be viewed in both tabular and graphical formats
Economics
Economically, it is estimated an annual savings of $1 M – 3.5MUS$ by inventory reduction, automatic line-up, minimization of spills, savings in custody transfer and real-time inventory information by implementation of gomsTIMS™.
System Requirements
Pentium III or higher, 650+ MHZ, 256 MB RAM, 20 GB+ HDD, CD ROM, 17"+ color monitor, Window NT/2000 OS
Contact Information
Offsite Management Systems LLC
2003 Baker Estates Dr. Houston, Texas 77094, USA
Tel: +1-832-821-8001 Fax: 866-450-4035
Email: info@globaloms.com Web: globaloms.com
Copyright 2000-2015 Offsite Management Systems LLC. All rights
reserved. OMS™, OMS logo (Tri-circle Triangle), "…Redefining
Excellence, gomsTQTS™ are trademarks of Offsite Management
Systems LLC, USA.