Test
Background
The planning of refinery blend products and the subsequent optimal control of the blending process has a significant immediate impact on refinery profitability and excess inventory. gomsPOFBlend™ off-line blending planning package considers production planning, inventory management, and the quality and value of blending components to optimize blending operations. It is a comprehensive package, which can be modularly integrated in a refinery's MES structure.
Applications
Offline Product blending optimization, planning and scheduling system (gomsPOFBlend™) can be used very effectively for:
Single recipe generation for Gasoline, Diesel and Fuel oil products
Multi-period blend planning for weekly inventory control and monthly production forecast
Conducting blend studies for operational change modeling and LP verification
Reblending to correct off-spec blends
Backcasting to calculate blend models parameters and bias terms
Analysis of compliance with EPA, CARB rules
Blend Recipe Management and Automatic downloading of next blends recipes to online execution
Benefits
Shift usage of more economical components
Determine and exploit on-the-spot opportunities quickly
Link refinery-wide planning to short term logistics
Remove guesswork and artistry from blend planning
Production of economically optimum product blends, thereby adding to refinery's bottom line profitability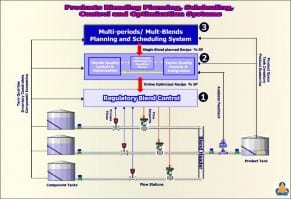 Figure – 1 OMS Blend Control, Optimization and Planning System Hierarchy
Features
Basic

Blending full range of gasoline grades, aviation jet to diesel fuel for distillate blends, and fuel oil blends.
Multi-period planning with inventory control constraints.
Number of multiple periods, feed-stock components, and product grades limited only by computer memory size availability.
Can choose non-linear predictive methods "on the fly" for qualities
Maximize profit, Minimize quality giveaway, Calculation only optimization Choices
Determine the header targets for properties for an online system

Advanced

Inventory Management – account for changing production and set time dependent limits
Group Specifications – property constraints over groups of blends
Heel Tracking – accounting for volume / qualities in tank already, for each use Component
Pooling – simulate rundowns
Generalized free-formatted linear and non-linear equations generation and management system (GAMS™)
User Selectable options for multiple Correlations for 36 qualities
3 User definable blend qualities
Extended

Octane Blending Values – determine indices for use in LP's
Blend Property Control Interfaces- send recipes directly to on-line system
Biases – add values to correct consistent errors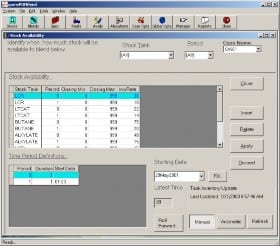 Figure – 2 Stock Availability Data Entry
Giveaway Ranges – ensure blend remains close to specification
Infeasibility Control – recover from "impossible" situations, relax constraints until solution is found
"Distress" Buy / Sell – provides indication of why problem won't solve, calculate volume / quality needed to make an infeasible problem solve
Environmental

EPA RFG Models – blend to emission specifications, ignores extrapolations at iteration-level (may impact), report exactly as written
CARB Phase II Predictive Model – report emissions, report acceptability

Modeling and Correlations

Preferred Recipe Penalties – encourages model to stay near a preferred Starting recipe
Product Group Limits – volume constraints over groups of blends
Product Group Relations – relate production of blends to each other
User selectable built-in well proven correlations for over 40 properties for gasoline, diesel and fuel including EPA RGF and CARB models
Optimal scheduling of multi-period blends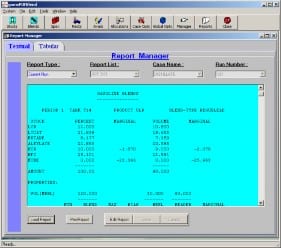 Figure – 3 Reports Manager
Interfaces
gomsPOFBlend™ allows direct interface with
Regulatory and Online blend control and optimization system (gomsPONBlend™)
Laboratory and Tank gauging data
gomsTQTS™ for online tank quality tracking system.
Blend Information Management System for feedback of model biases (gomsBIMS™)
Economics
Economically, it is estimated an annual savings of 750K–1.5MUS$ by Offline Recipe Optimization, and planning and Scheduling of blends.
System Requirements
Intel Core i7 or equivalent, 3+ GHz, 32GB RAM, 1TB+ HDD, CD ROM, 17"+ color monitor, Windows 7 and higher OS
Contact Information
Offsite Management Systems LLC
2003 Baker Estates Dr. Houston, Texas 77094, USA
Tel: +1-832-821-8001 Fax: 866-450-4035
Email: info@globaloms.com Web: globaloms.com
Copyright 2000-2015 Offsite Management Systems LLC. All rights reserved. OMS™, OMS logo (Tri-circle Triangle), "…Redefining Excellence", gomsTIMS™, gomsTQTS™, gomsPONBlend™, gomsPOFBlend™, gomsBIMS are trademarks of Offsite Management Systems LLC, USA.