The Problem
A typical refinery or any liquid based manufacturing plant has billions of dollars' worth liquid assets (crude oil , manufactured intermediate and final products) in 150-300+ storage tanks. The inventory of these assets are monitored in real-time and moved within and across refinery boundaries in 100+ movements on daily basis. The management of these assets is crucial not only from safety (spillage, explosion, equipment burn-outs) point of view but also for reconciliation of receipts and dispatches to avoid discrepancies and thereby avoid huge losses of revenue or overpaid for less than ordered delivered products.
Challenges
OMS was retained as Subject Matter Expert (SME) and Lead Engineer cum Project Manager (LE/PM) to manage the implementation of Invensys (now Schneider) Tanks Information System (TIS) and Oil Movement Management (OMM) system for 6 shell refineries in the USA and recommission TIS/OMM at one of the European refinery where the system was decommissioned earlier year ago after 3-4 months' in use due to lack of support from the vendor and functionalities for the refinery's specific needs. The project duration was 3+ years to implement afresh and recommission TIS/OMM at 7 shell refineries and involved coordination project shell IT team of 5+ people, vendor engineers and analysts and complementing staff from each refinery.
Project Objectives
The main objective of the project was to implement and commission the refinery's liquid assets system which comprised of Tanks Information Systems (TIS) and Oil Movement Management (OMM) from the vendor Invensys (now Schneider) for 6 US Shell Refineries (Deer Park, Port Arthur, Convent, Norco, Martinez and Puget Sound). The project also had the scope to recommission TIS/OMM systems at Shell's of European refinery at Fredericia (Denmark) which was earlier abolished by the refinery after its in service of only 3 months due to lack of functionalities and adequate training.
The scope of the project included the following objectives:
Over-all integration of the following sub-systems provided by third party vendors.
Tank Information System (TIS) – Vendor Invensys https://www.schneider-electric.com
Oil Movement Management (OMM) – Vendor Invensys
PHD/PI Database – Vendors Honeywell and OSISoft www.osi.com
Oil Logistics, Accounting and Shipping Management (OAS) – Vendor www.MaronSystem.co.uk
Mass Reconciliation System (Advisor) – Vendor-Aspentech www.aspentech.com
Optional – Orion/MBO for some sites
Blend Optimization and Scheduling System (BOSS) – Vendor Invensys at some sites
Laboratory Information System (LIMS)
In-house developed terminal entry systems
Global SAP as Shell Enterprise Resource Planning System (ERP) as Book of Record
Data Reconciliation for unit Balancing (DataRec) – Shell
Various data transfer interfaces using BizTalk, sFTP Protocols
DCS from Honeywell, Invensys (TDC-3000, DeltaV)
Figure-1 Shows the representative flow of information between above-mentioned system modules in an integrated system implemented at Shell under the scope of this project.
Evaluation of Material Balance (MAB) software from Invensys for the fence-line balancing to supplement or replace Aspentech's Advisor software. Please click here to view the project profile on this project task. This task was managed as a sub-project of the global project discussed in this project profile.
Develop and implement a comprehensive program and schedule to train refinery operators and engineers working in the refinery offsite operations.
Develop and implement a operator certification strategy to certify/re-certify operators for continuing education and the completion certificates would become a part of their employment file.
Develop and implement a blended eLearning system for continuous training of new and old operators and engineers alike to efficiently manage the refinery assets management systems implemented under this project.
Streamline the information flow among all system sub-modules and work flow between planner/scheduler, oil movement operator and yield accountant.
Our Approach
The project was divided into many sub-projects handled by many project teams due to its vast implementation scope (7 shell refineries), budget (5M$+) and duration (4 years).   OMS followed the following approach for various aspects of the project.
Project Management – OMS used the following Project Deliverables Framework (PDF) to manage and provide SME services for the initial implementation of OMM/TIS at 6 US refineries and recommissioning of OMM/TIS at Fredericia refinery.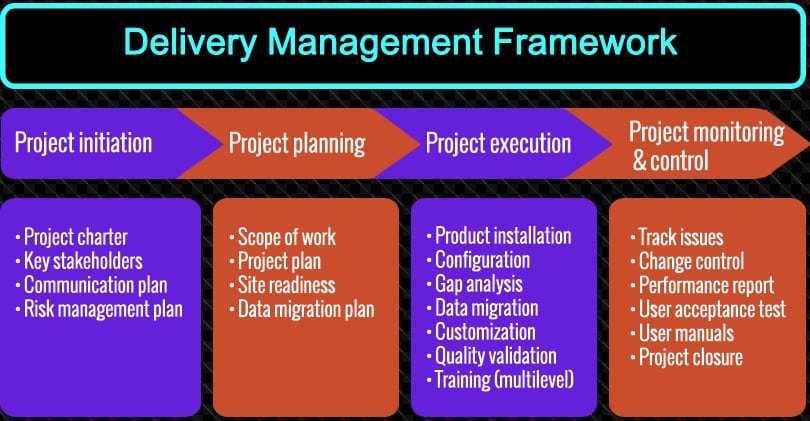 2. Development of Training Strategy – OMS developed a strategy to train OMM/TIS operators, planner/scheduler and yield accountant as two steps approach; to train trainers and train users to enable post project in-house user supports from supervisors and experts before soliciting help from the software vendors. This included 3 weeks class-room training sessions with after course certifications. A post training survey shown below indicated that the training/re-training was received well by the attendees.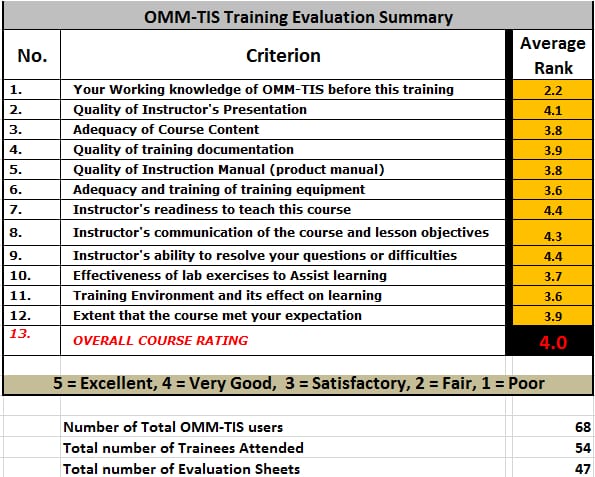 3. Development and Commissioning of Blended eLearning System for OMM/TIS – The corporate management was concerned that OMM/TIS operator have high attrition and rotation rates and will require continuing education option to train on the job and certify/recertify them for the job responsibility. Keeping this mind, a sub-project was funded and initiated t develop blended eLearning system for the purpose and entrusted OMS for project management and SME services. This project was 8 months duration with funding of 150K$ and comprised of 20 teams members from both onshore and offshore organizations.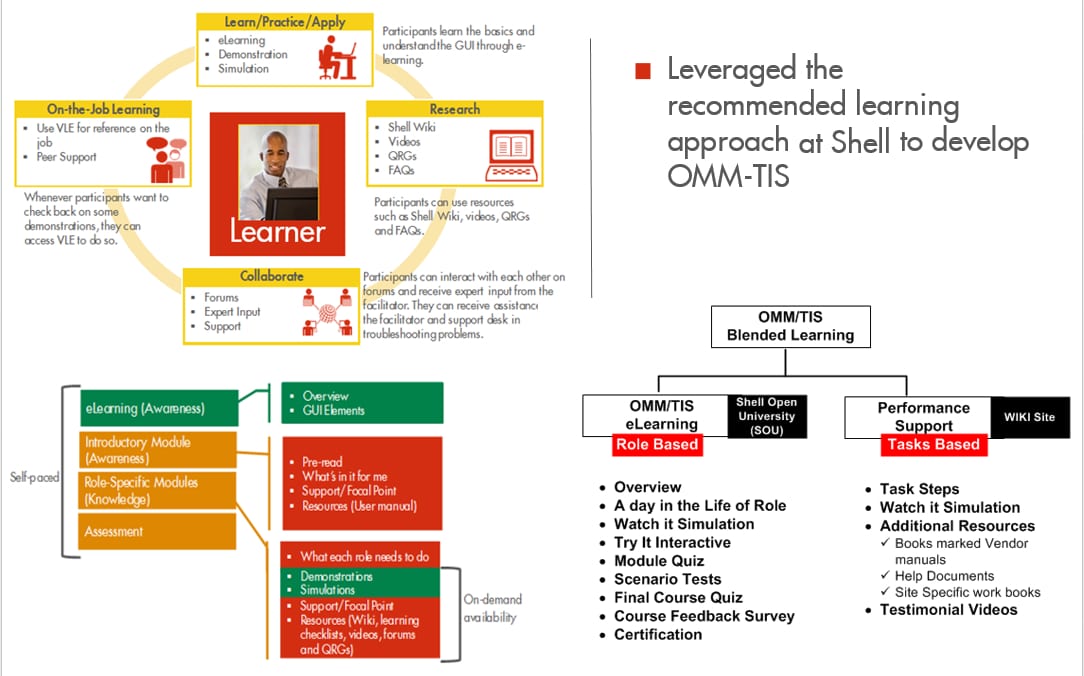 4. Evaluation Study of MAB (Material Balance) – This sub-project was managed and executed by OMS to explore if Invensys MAB can be used for fence-line balancing and supplement the functionalities of Aspentech' s Advisor software. OMS' approach was to study mass balancing work flow and activities at two Shell refineries (Norco and Fredericia) to enlist the requirements and evaluate MAB against those requirements.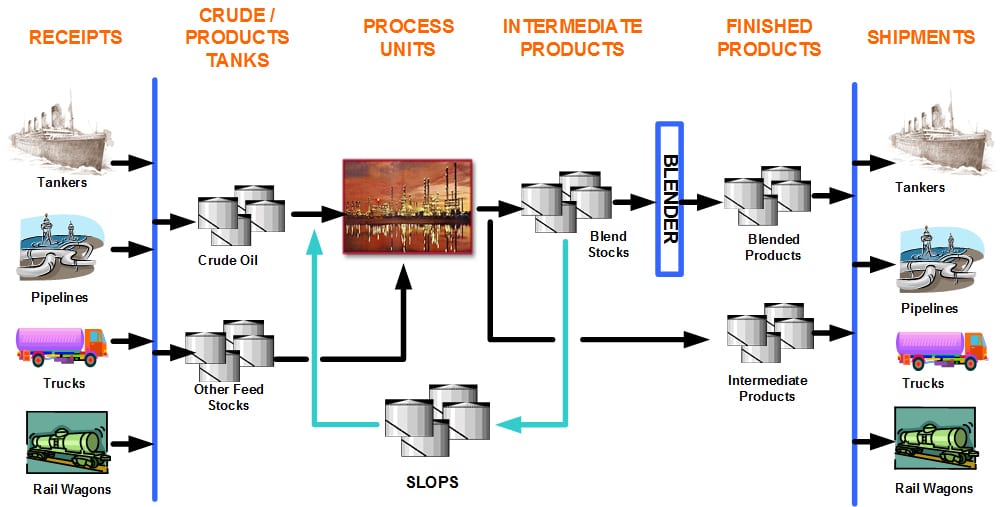 The End Result
Oil movements and storage (OMM/TIS) systems were installed, commissioned and operational at seven of the shell US/Non-USA refineries.       The success of the project was measured in terms of daily movements managed using OMM/TIS as KPI (Key Performance Indicator) for all seven refineries over 3-6 months period and categorized for different types of movement.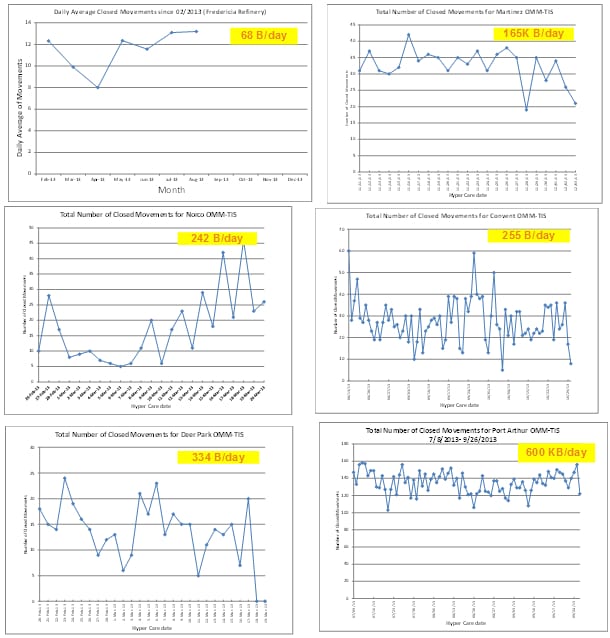 It is observed that number of average daily movements are related to pre-expansion crude capacity. However, if the refinery capacity is expanded, then the number of required movements are higher as there may not be adequate tankage for the expanded capacity as seen below for a refinery expanded from 300 to 600 KB/day capacity.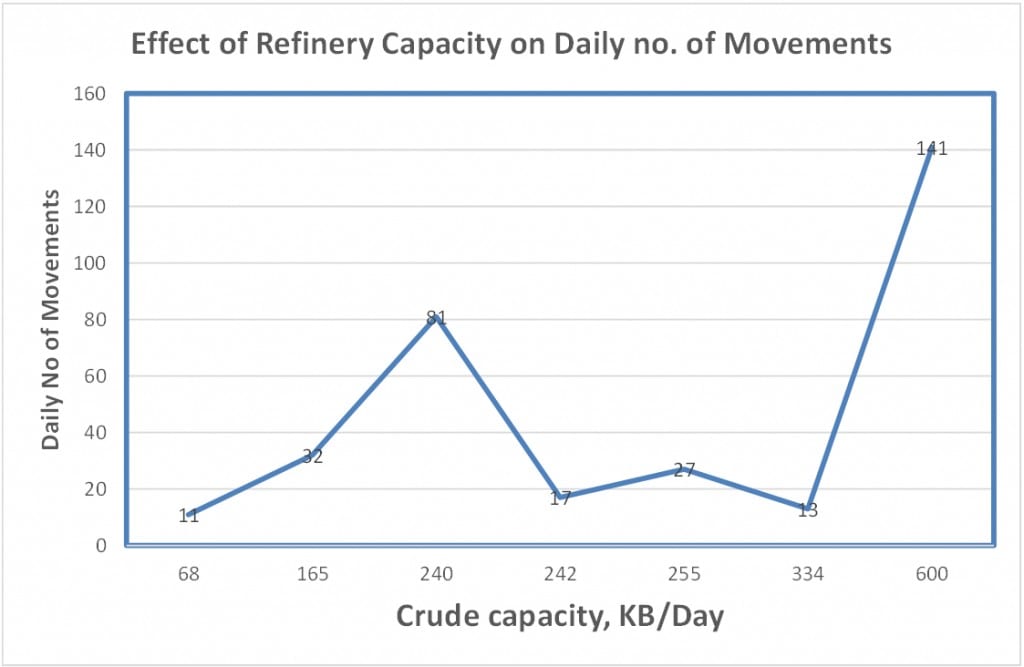 The profile of sub-project "Evaluation Study of a Refinery Mass Reconciliation Software" can be viewed by clicking here.
The profile of sub-project "Blended eLearning Portal for Refinery Assets Management Systems" can be viewed by clicking here.
More Information
For additional material on the concepts inherent in the project described here, you can view the following OMS webinars. Click here to view these webinars.
The Management and Automation of OM&S in a Refinery
Tank farm Management
Hydrocarbon Management in the Refining Industry